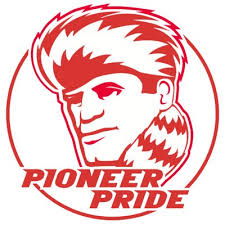 PIONEER PRIDE LEADERSHIP 2020
"LEADERSHIP IS A CHOICE, NOT A POSITION." Steven Covey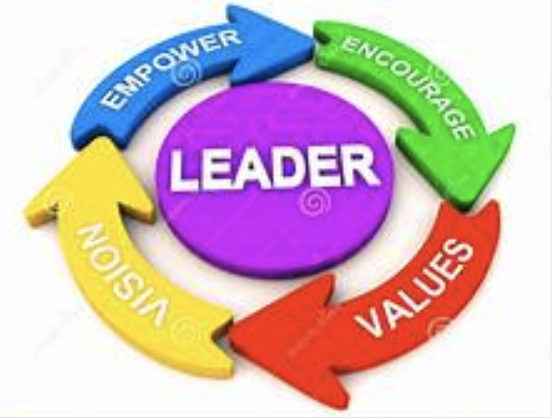 Pioneer Pride Band Leadership Information
Thank you all for your outstanding work in the Virtual Pioneer Pride Leadership camp last week. We continue to be impressed with your thoughtful dialog, reflective contemplation and creative ideas to keep the culture and spirit of the Pioneer Pride alive in this unusual time.
I would like to follow up on a few items and give you some information for your band camp planning.
You can view the Band Camp Schedule at the link below. Keep in mind that in this environment we have to be flexible. So it is possible that we will adjust the schedule as we see how it is going. Make sure you check the schedule daily for any updates.
There is A LOT of information here so please read carefully!
Leadership Action Items:
Fill out the leadership "What Animal Are You" Survey so that we can provide you with what you need.
Complete your section "gift bags" by Monday. If you are delivering them, make sure to do so prior to Tuesday's first rehearsal. (preferably not at 5 pm Tuesday..... :-)
If you are dropping the bags at KHS make sure I have them by 11 AM Monday. You can drop them at the back band door. Be sure they are labeled!
Section Leaders - The first breakout session for sectionals will be a "get to know your section" breakout. Have a fun get to know you game ready. Teaching Tip: It is always good to plan more than you think you will have time for so you don't end up with awkward silence.
Freshmen are starting the first day in their own breakout room - Drum Majors - you will be with them - I will make you co-hosts so you will have all zoom abilities. Welcome them let them know why they made the right choice to join the Pioneer Pride. Get them talking if you can.
Upperclassmen will start together in a breakout room. Band Presidents - This is a great time to talk to them about all of the wonderful things you and we have in store for them.
Music Librarian Leaders - we will start with Hail Kirkwood. Make sure you can show your section how to access the music. You can access it in the link below.
Music Performance Leaders - Be ready to work with the click tracks of Hail Kirkwood, Varsity Valor, Star Spangled Banner and Hey Baby. You can access the track through the music folder below and we will put them in the leadership Schoology Group.
Attendance Leaders - Make sure you have access to the attendance spreadsheet. Take attendance everyday in your sectionals. Then a section leader will need to do the attendance for the breakout room they are in.
Marching Leaders - Be ready to teach and demonstrate marching. Mr. C and Mr. Banks will be dropping the videos HERE.
Yell Leaders - Let's have a cheer of some kind to create some fun! Can we do the wave on zoom?????
Uniform Leaders - Be ready to talk about the new summer wear.
Social Media - take some screen shots! Get some things ready to post on social media.
Please reach out if you have questions about anything! Our doors are open and we are available for you!
Remember, there is an open office hour zoom for anything you need on Monday from 11:30 - 12:00. Use the Leadership Zoom Link. If that time does not work for you. I am happy to make an appointment with you for another time.
Access all the music you need here!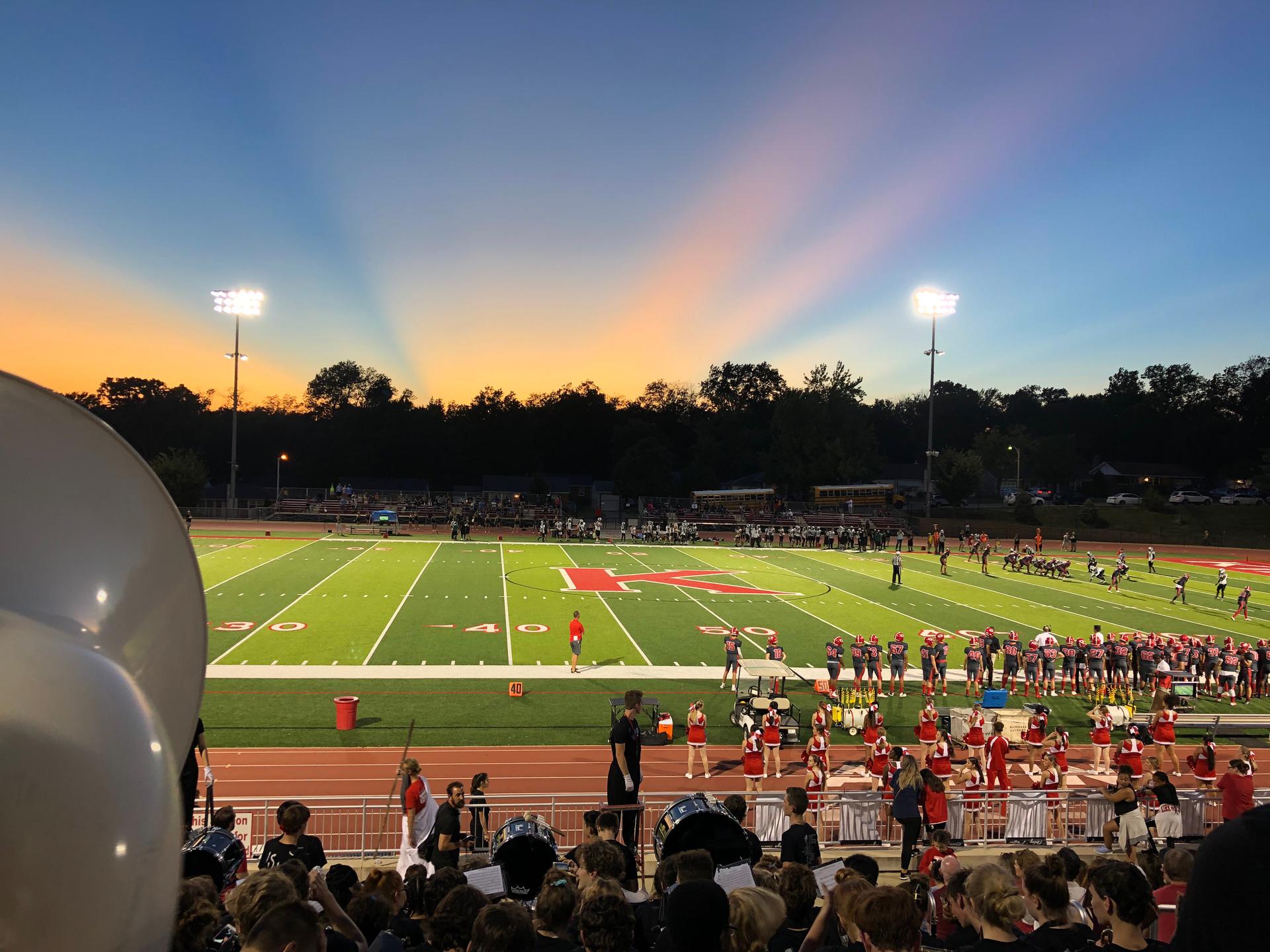 Pioneer Pride Leadership Office Hours
Mrs. Friesen is available for questions.
Office Hour Zoom Meeting on
Monday 11:30 - 12:00
Use the Leadership Zoom Link. If that time does not work for you. I am happy to make an appointment with you for another time.
More days and times to come!
"EARLY IS ON TIME, ON TIME IS LATE, AND LATE IS UNACCEPTABLE!"
We will be meeting as a leadership team at 5:15 PM each day before rehearsal. Use the link below to enter the Zoom
Be on time! I will open the zoom at 5:15 PM.
Get dressed! Don't come to the zoom in your PJ's! When you dress better - you do better!
Come to the zoom ready to lead!
Have something you can take notes on.
Turn on your video. If you would like to use a virtual background please use our Pioneer Pride backgrounds. Find approved backgrounds in the link below.
Have a secondary device you can complete a google form on.
Be ready to work and be creative!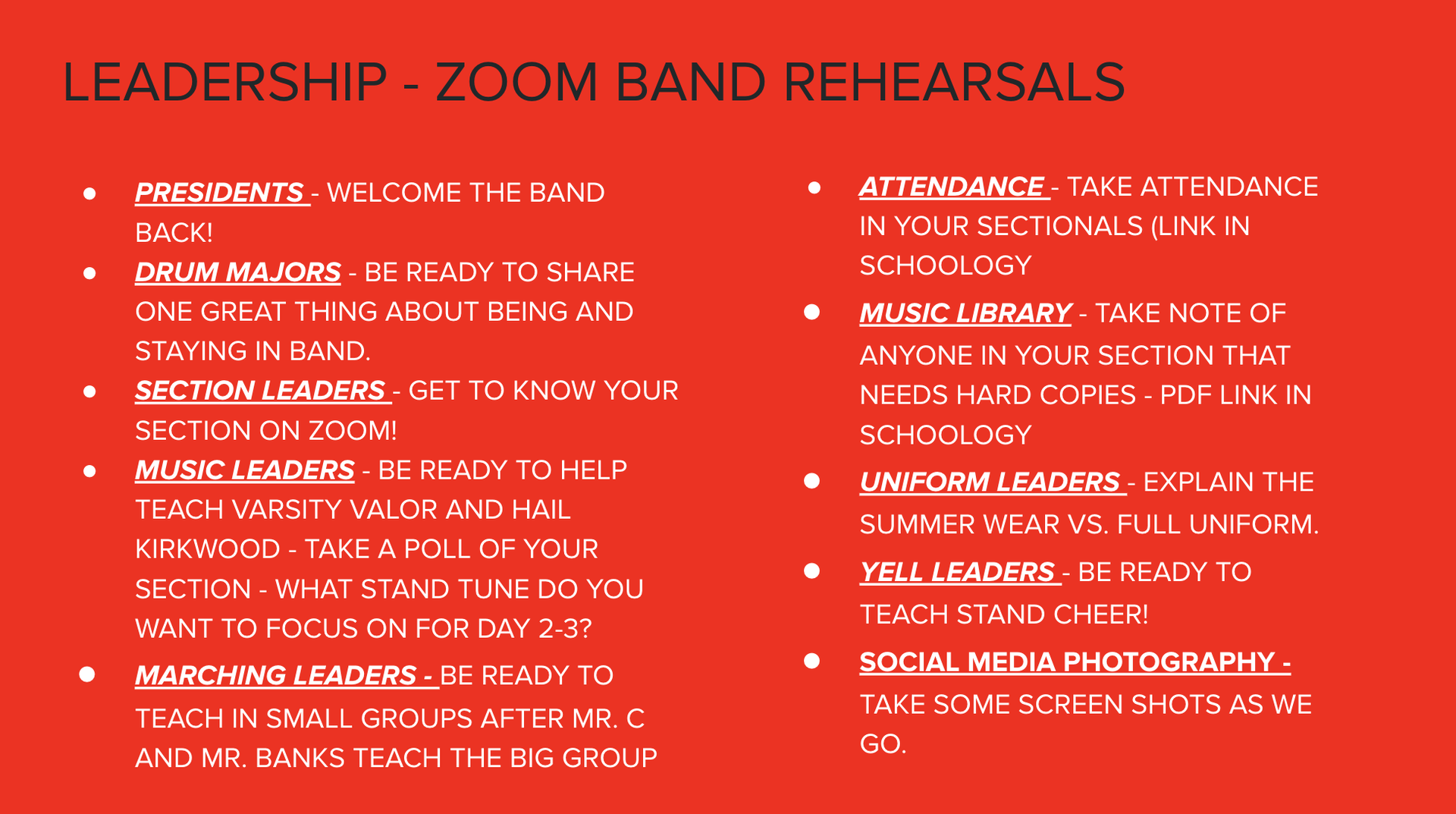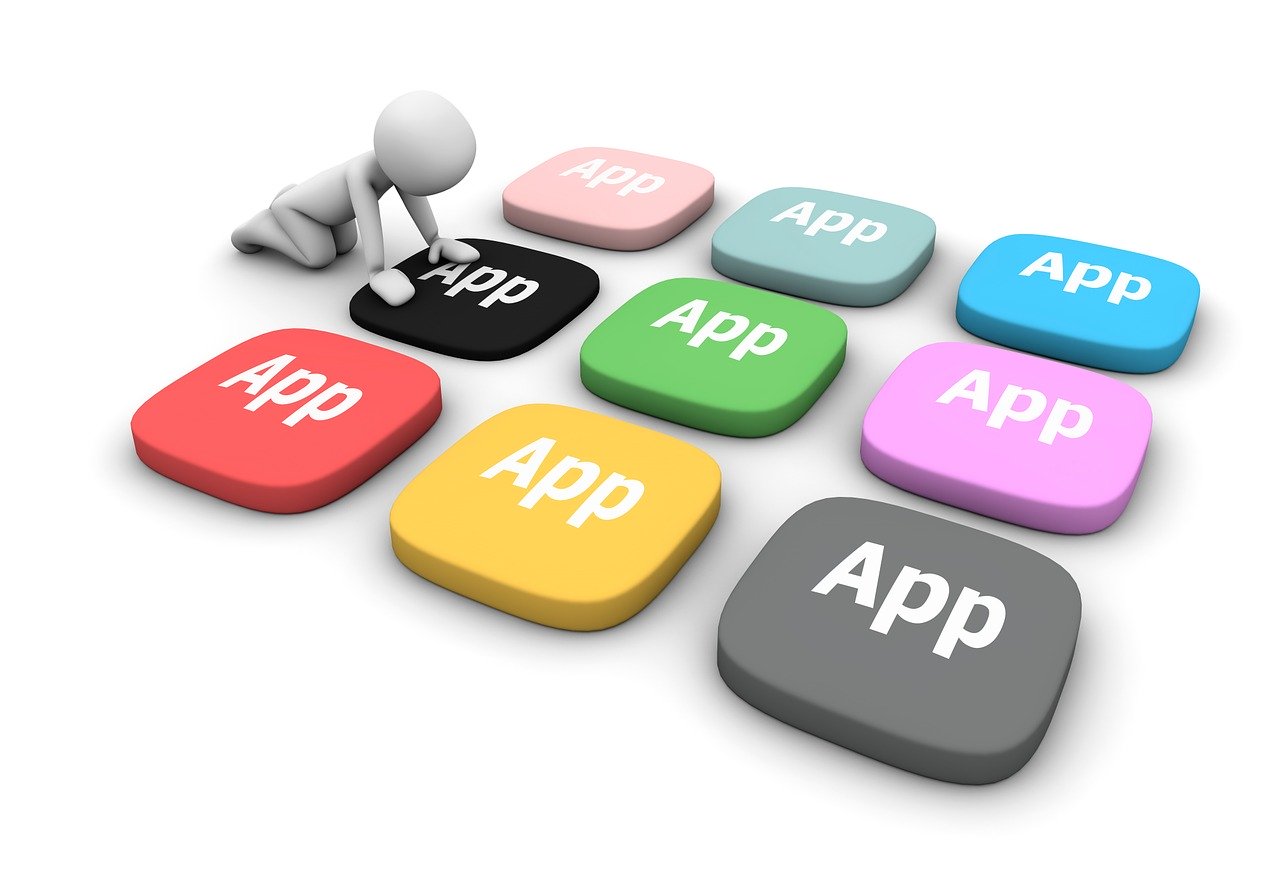 Pioneer Pride Leadership Remind
IF YOU HAVE NOT YET ACCEPTED THE REMIND LINK PLEASE MAKE SURE YOU SIGN UP!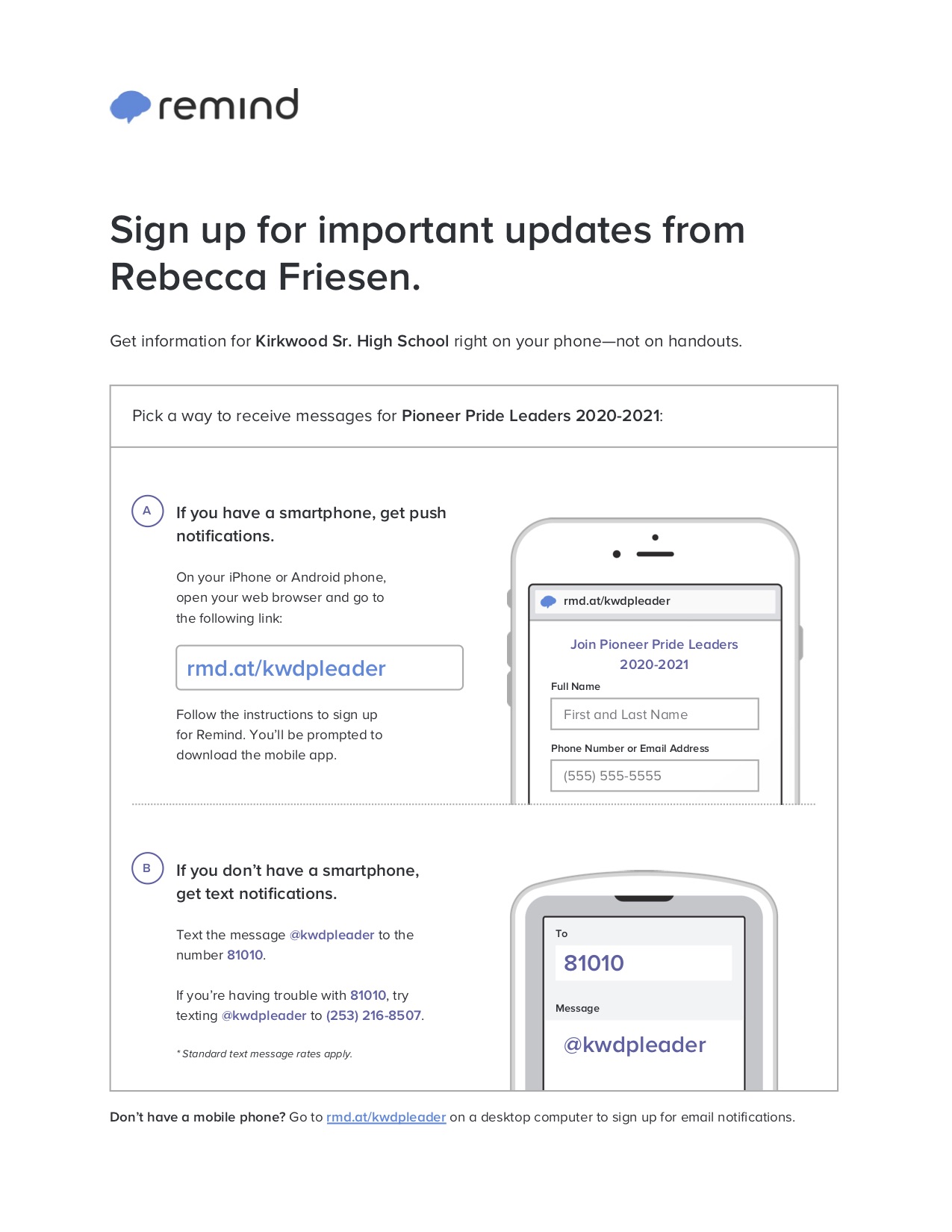 LEADERSHIP ZOOM DETAILS
Topic: Pioneer Pride Leadership
Time: This is a recurring meeting
Join Zoom Meeting:
https://kirkwoodschools.zoom.us/j/95606624523?pwd=aXBFLzNMOWFoV1Q0WU1LSWQxamhHQT09
Meeting ID: 956 0662 4523
Passcode: 652514
One tap mobile
+13017158592,,95606624523# US (Germantown)
+13126266799,,95606624523# US (Chicago)
Dial by your location
+1 301 715 8592 US (Germantown)
+1 312 626 6799 US (Chicago)
+1 929 205 6099 US (New York)
+1 253 215 8782 US (Tacoma)
+1 346 248 7799 US (Houston)
+1 669 900 6833 US (San Jose)
Meeting ID: 956 0662 4523
Find your local number: https://kirkwoodschools.zoom.us/u/a1fLq5NbP